About
Welcome to Bloomvale House, home of award winning Ballydougan Pottery, Restaurant & Coffee Lounge, Gift Shop, Pottery Workshop & Courtyard Cottages. Bloomvale House, an historic listed grade II thatched house was built in 1785 by a Huguenot family named Gasgoine. Originally a Linen Merchant's house, Bloomvale was a centre for receiving and final processing of linen from the many out-weavers who lived in local cottages. This house has for generations been associated with craft so it was fitting in 1996 when its present owner Mr Sean O'Dowd bought the property and restored Bloomvale House and its outbuildings. It became the home of Ballydougan Pottery, where the tradition of excellence is still carried on to this day. In the workshop each piece of pottery is thrown and decorated by skilled hands to produce a comprehensive range of kitchenware and giftware items.
Take time to meander through the historic 18th Century thatched House, now the Gift Shop, where the full range of Ballydougan Pottery and other quality gifts are on display – Baby Gifts, Gifts for an Engaged Couple and the new Mr & Mrs, Gifts for Him and for Her, Candles, Photo Frames, Clocks, Scarves and Jewellery and so much more!. Then relax in our Restaurant and Coffee Lounge and enjoy fine Ulster cooking at its best, freshly prepared in our kitchens using the finest local produce…Breakfast, Morning Coffee, Lunch or Afternoon Tea. We also cater for Hen Parties, Baby Showers, Birthdays, Team Building Days, Conferences, Group visits, Family Occasions, Wedding Receptions etc. including night time opening on request. Whatever the event or occasion we can assist with planning your day, offering Pottery Workshops around refreshments and meals.
For those who wish to stay a little longer Ballydougan Pottery Courtyard Cottages offer comfort and quality while you share a romantic break with someone special, or as a homely base for visiting family and friends and as a central base for exploring Northern Ireland. Belfast, The Giant's Causeway, Banbridge & the Game of thrones Studio, the Mourne Mountains, stunning coastlines & waterways are all easily accessible. We have a claghan of 5 self-catering Cottages which sleep 2 – 6 people. These are available all year round for short breaks or longer holidays are required.
Ballydougan is open Monday – Saturday 9.00am – 5.00pm - For Information or Reservations please contact Ballydougan directly on Tel: 028 3834 2201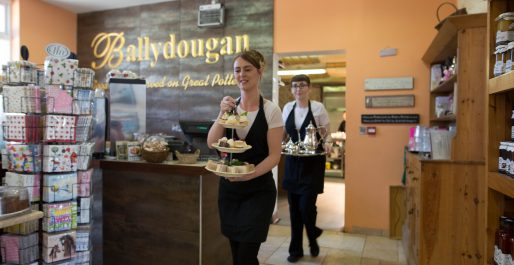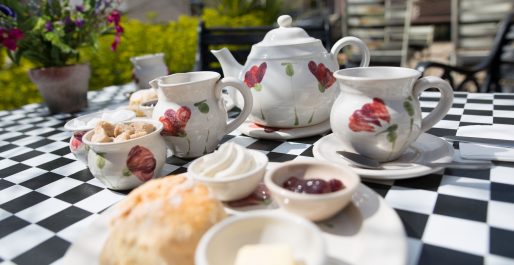 Our Customers Say
"Excellent Festive Dining" ...... We had visited for coffee in October and picked up a Christmas dining menu; it was so tempting that we booked immediately. The restaurant is open on a limited number of weekends before Christmas for evening meals. The food and ambience was very good. Beautifully decorated Dining room, with a crackling fire....
- January 2018
"Good Food & Good Service".....We were on holiday in NI visiting family and five of us were at Ballydougan for Christmas Dinner. We had reserved a table and paid a 5 pounds per person deposit. The staff were welcoming as well as being pleasant and attentive throughout the meal with lots of smiles and laughs too. We all had a traditional Christmas dinner and it was faultless! It was piping hot, very tasty and extremely well presented. The portions we had were plentiful and, having delayed desert for a short while, we all managed to eat one, just! We had a variety of desserts none of us were disappointed with what we ate. The food here is of very good quality and the surroundings added to the Christmas feeling. Hopefully we will be back here in the Summer.
- July 2018
"Lovely Place for Breakfast or Lunch"......Went to Ballydougan for a breakfast treat from my wife and really enjoyed the food and service. The staff are very friendly and the place has been modernised and looks great. Great you can also buy Ballydougan pottery items in shop. Off road parking and easy to find on the main Lurgan to Gilford road near Bleary crossroads. Lovely and cosy place to visit. ...
- August 2018
"Christmas Wonderland".......I had Lunch in Ballydougan Pottery today.( I hadn't been there for a while) It was beautiful. The Pork Loin was delicious and the sticky Toffee Pudding was melt in your mouth stuff. The service was very professional and friendly. The blazing fire was so homely. The Christmas decorations are amazing. I'm told the staff decorated the place. I thought they had employed some interior designer to do them.(staff you are in the wrong job!!) They are gorgeous.. I could have sat all day and looked around this place, A WONDERFUL PLACE. I will be back very soon. ....
- November 2017
"Wedding Reception at Ballydougan Pottery".......We had a fantastic Wedding Reception at Ballydougan in September past. Every detail was taken care of very professionally, Food and service by very warm caring staff was first class. We just had a very relaxed and fun day. Many thanks to Bridget and her team. We could not have asked for more. Regards xx
- July 2018